Having recently discovered the London Penta I was more than intrigued by the official route for the Royal Wedding.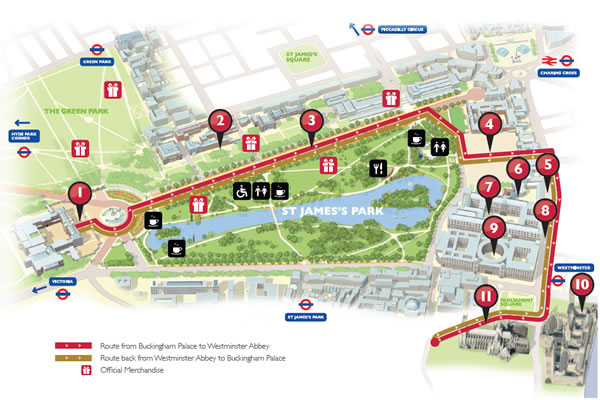 I knew Buckingham Palace would be involved, main West penta arm , but would the route pass over other lines involved in the geometry? Finding maps of the official route was not hard, many sources having the major points listed. All I had to do was plot the route over my established Google Earth London Penta Geometry.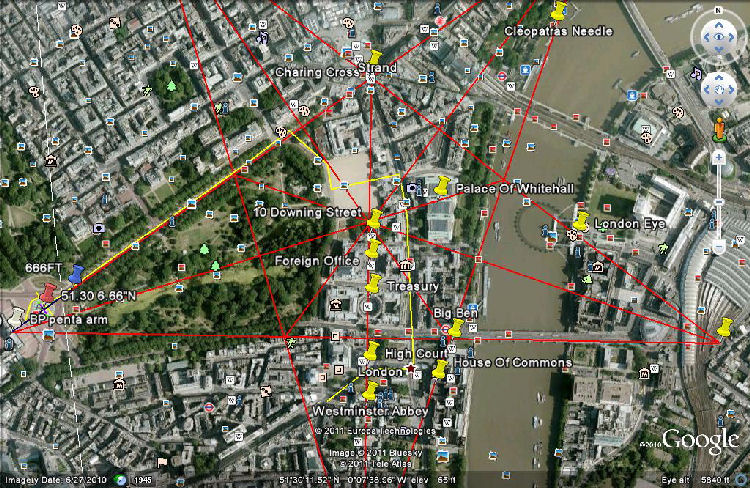 Route taken and the geometry passed through. Leaving Buckingham Palace (Main Penta Arm) the route travels with the Mall ( Main Penta line) before turning into Guards Square hitting the line bisecting the N/W Penta Arm. A ninety degree turn takes the route over guards square to the line that bisects the N/E Penta Arm Another ninety degree turn then takes it through the line bisecting the West Penta Arm (Buckingham Palace) and on through the line bisecting the East Penta Arm. This section of the route passes just to the East of the Penta center near Downing Street. On reaching the Treasury the route passes over the line bisecting the NW Penta Arm for the second time before crossing another main Penta line linking Buckingham Palace (West Penta Arm) with the Waterloo Station ( East Penta Arm). Before reaching Westminster Abbey the route goes over the line bisecting the South Penta arm and then back onto it at Westminster Abbey, where of course the main ceremony took place...This line is the main N/S axis. All told all the lines that bisect the 5 main Penta arms are passed over. One main pentacle arm (Buckingham Palace) is the beginning and end destination of the days events.